---
Overlooking the Smokey Hill River, Indian Hill Golf Course is a high-quality, 9-hole public golf course with reasonable rates. Sitting along side the Smokey Hill and Butterfield trails, golfers can either rent a cart or walk, while enjoying the panoramic view of farmlands and majestic skies. A modern Clubhouse features food, beverages and tables to relax away from the heat.
The 9-hole course plays 3,461 yards from the tips and offers a good challenge for skilled players, but also forgiving enough for novices. Rounds of 18-holes are available, as well – and this course is so fun, that you'll want to play it twice!
---
Course Rules
Out of Bounds
• All water on course is casual expect pond No.4
• Out of bounds for course marked with white stakes
---
Golf Etiquette
• No outside alcohol or beer, It's a state law not a rule
• Golf cars shall use paths around tees and greens where available (stay off green surrounding slopes)
• Allow faster golfers to play through
• Make sure golfers in front of you are clear, NEVER hit into other golfers
• Path only or stay left on par 3's
• Keep golf cars out of native grass areas
• Must check in at the clubhouse before your round
---
Directions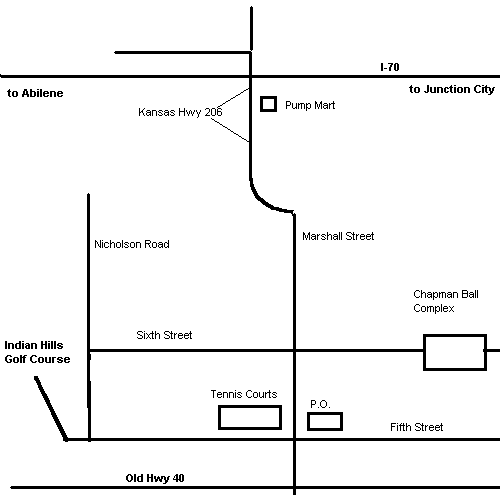 Before you can enjoy the exciting play at Indian Hills you will have to find it first, which is a lot easier than making par. The map above is more than helpful, but if that is confusing just follow these directions. Since most of you will come via Interstate, the first thing you do is turn off I-70 at exit 286. You will then turn South on Hwy 206 which takes you into town. After about 3 miles off I-70 you will take a right at 5th street and head west. This street will take you directly to Indian Hills Golf Course. We hope you enjoy your round and if you have time check out our city.